I was recently asked to write a short overview of The Rose of Florence for a book club, so that they could get a flavour of the story before I go to meet them. Yes, I'm going to talk to a group of book lovers about my book - I'm still pinching myself that this is even happening!
So, for those of you who haven't yet plucked The Rose of Florence from her pages, here's what is in store for you...
Florence in the late 15thCentury was a tremendous, but turbulent time. The Renaissance is considered to have been born in this small city. At the time of this story, historical figures, such as Botticelli, Leonardo da Vinci, and Machiavelli lived alongside each other. Even Michelangelo lived there, although he was only two years old at the time. The city was ruled by a Signoria(or local government), the power mostly being controlled by a wealthy family of bankers – the Medici.
Of course, there were always power struggles, none more so than with the Pazzi family. This rivalry eventually led to a daring and sacrilegious attempt on the lives of the Medici brothers, Lorenzo and Giuliano. Why sacrilegious? The assassination attempt occurred during Mass in Florence's cathedral of Santa Maria del Fiore, the Duomo. Lorenzo escaped injured, but Giuliano was killed. Chaos followed, with the culprits publicly hanged.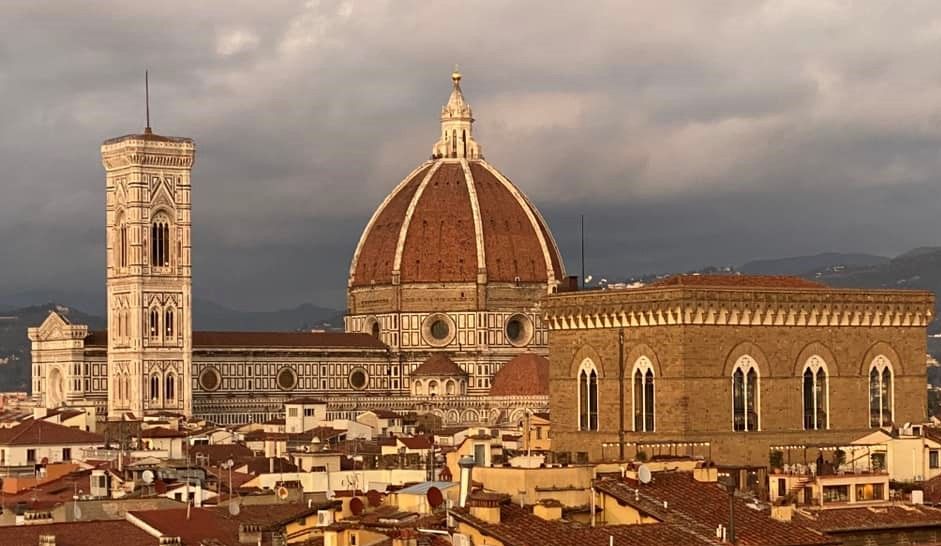 All this is historical fact, but what about the unknown stories? What about the regular Florentines? How would such an event affect them? This is not a novel about Italian politics, but a story about everyday life in Florence at the time. It has intrigue, mystery, treachery, and romance.
We follow the staff of the fictional Rosini family, who live and work in Palazzo Rosini, which is based on the real Palazzo Davanzati. We meet some of the big historical figures in their dining room: Botticelli, Lorenzo de' Medici and his brother Giuliano, as they enjoy relaxed evenings of food and wine with their friends, the Rosini. Eleonora is the cook, who rules the kitchen; Lucia and Antonio, who help to keep things running while enjoying a romantic fling, and Gianetta and Matteo.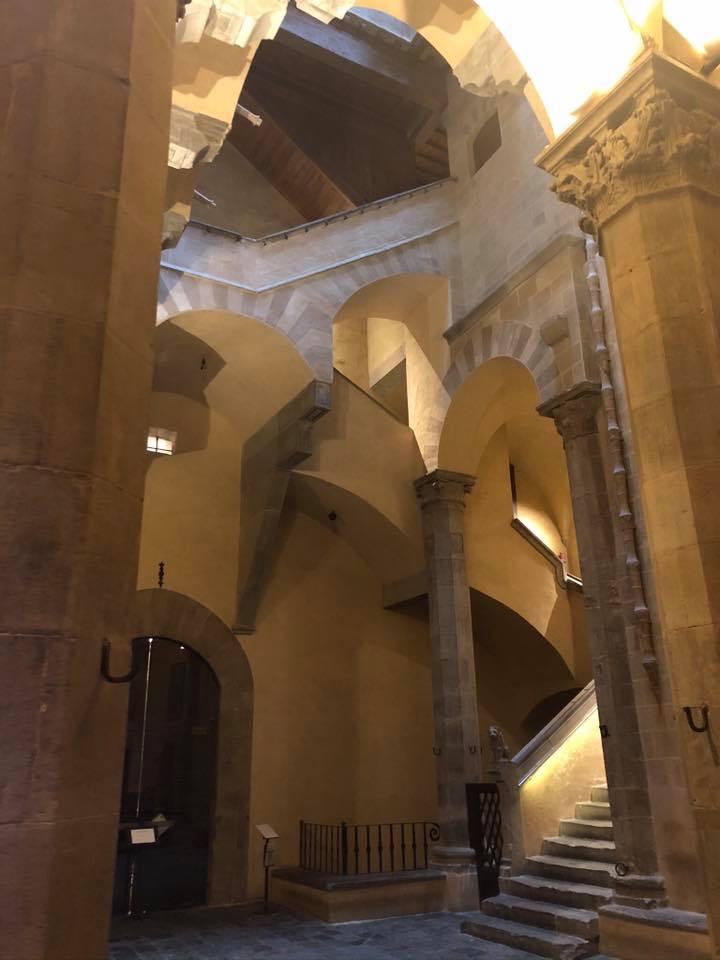 Our two main protagonists, Gianetta and Matteo love each other dearly. They know about the political shenanigans going on out in the big world but can't believe that it would ever affect them or their plans for a happy life together. How wrong they were!
When the family learn that Matteo was among the conspirators, Gianetta knows that life will never be the same. We know that there is a traitor in this Medici-supporting household. Was it Matteo all along?
The whole story is presented as a typical Italian meal, with an aperitivo to accompany the prologue, whetting our appetite for more, and finishing with a digestivo at the epilogue, while we figuratively pat our stomach after a satisfying experience. Each course is accompanied by a typical Italian recipe.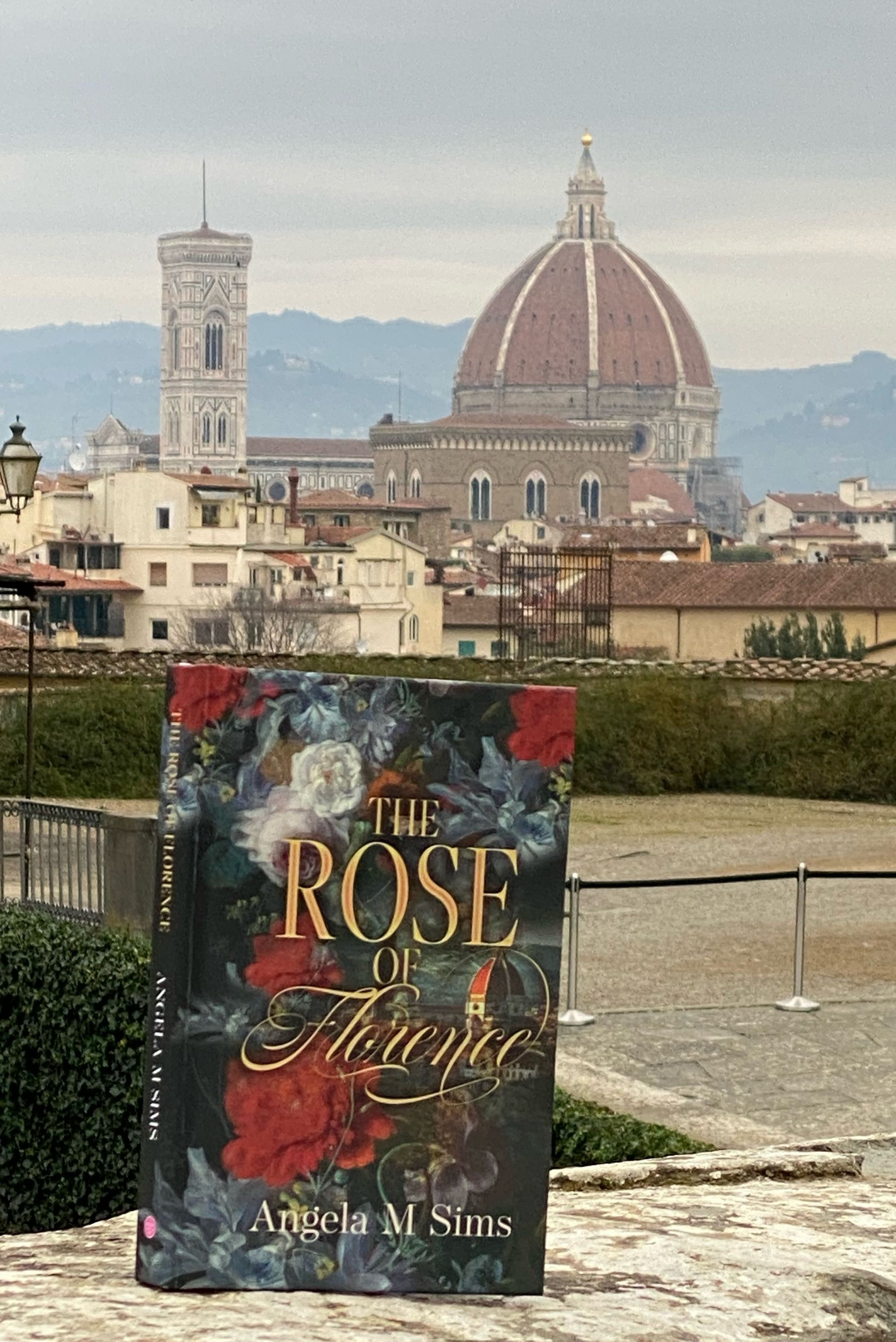 The historic centre of Florence hasn't changed much in the last five hundred years, and many of the places described in The Rose of Florence can still be seen today. In fact, just walk along the small side streets of Florence, and we could be back in 1478 with the friends we have just made.
I hope this has given you a flavour of The Rose, and I hope you enjoy it as much as I enjoyed writing it. Thank you for reading :)
Amazon
https://www.amazon.co.uk/Rose-Florence-Angela-M-Sims/dp/1739117301/ref=sr_1_3?crid=3VKN6ZFVPBH6J&keywords=the+rose+of+florence+book&qid=1680254619&sprefix=the+rose+of+florence%2Caps%2C118&sr=8-3
Google Play
https://books.google.co.uk/books/about?id=CcGdEAAAQBAJ&redir_esc=y&hl=en
Apple iTunes
https://books.apple.com/us/book/x/id6444842168
Barnes & Noble
https://www.barnesandnoble.com/s/2940165972638
Kobo
https://store.kobobooks.com/en-us/Search?Query=9780463819470